A basement bar can be the best addition to any home, offering a luxurious place for entertaining guests or enjoying quiet evenings of relaxation. In this blog post, we will explore ten basement bar ideas that exude elegance and style, elevating the overall style of your home. From sleek and modern designs to classic and timeless aesthetics, these ideas will inspire you to transform your basement into a luxurious retreat. Whether you're a connoisseur of fine spirits or simply enjoy hosting gatherings, join us as we delve into the world of basement bars and discover how you can create a space that combines entertainment and luxury in perfect harmony.
Statement Lighting and Backlit Shelving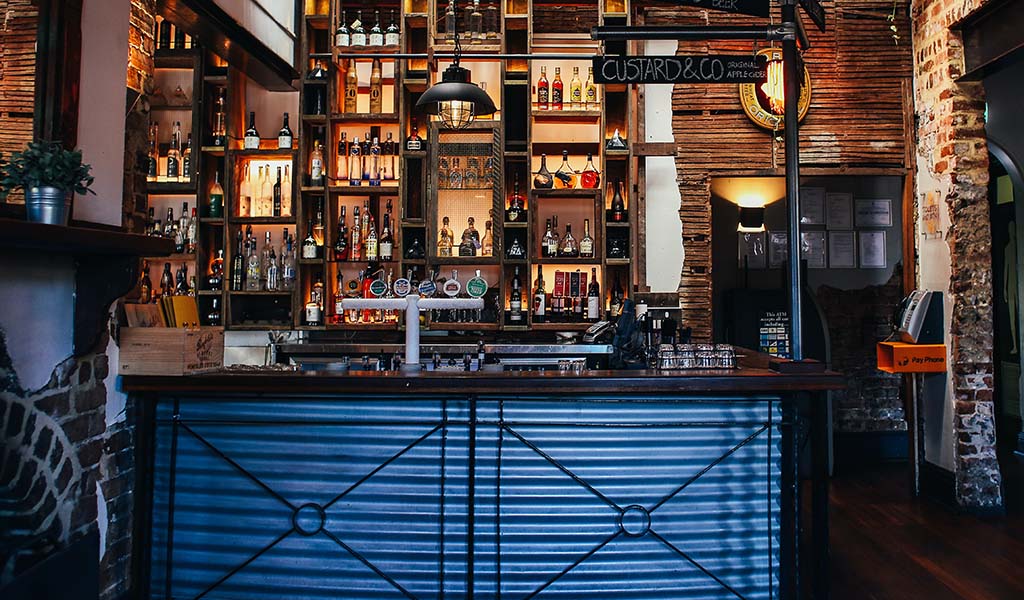 To create a truly luxurious ambiance in your basement bar, invest in lighting that serves as both a functional and decorative element. Opt for exquisite chandeliers with crystal accents or sleek, modern pendant lights that make a bold statement above the bar area. These eye-catching fixtures not only provide lighting but also serve as a captivating focal point.
Complement the lighting with backlit shelving that showcases your collection of fine spirits. Install LED lighting strips behind the shelves to create a soft, warm glow that highlights the bottles and adds an air of sophistication. Consider using frosted or etched glass shelves for a modern and elegant touch. This unique feature not only creates a visually stunning display but also makes it easier to locate and select your favorite drinks.
High-end Materials and Finishes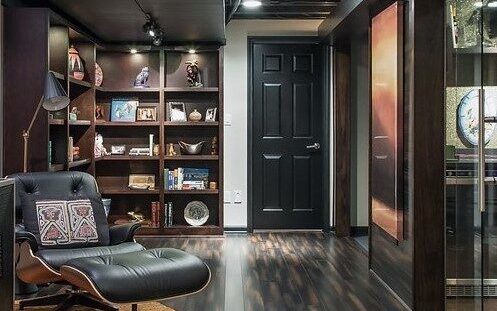 When it comes to basement bar ideas, the choice of materials and finishes plays a significant role. Opt for high-end materials that exude elegance and refinement. Consider installing a bar countertop made of premium hardwoods such as mahogany or walnut. These rich, dark-toned woods not only provide a luxurious aesthetic but also offer durability and longevity.
Complement the bar countertop with cabinetry made of high-quality materials such as solid wood or custom veneers. Choose finishes that enhance the luxurious feel, such as glossy lacquers or polished surfaces. Incorporate metallic accents like brass or gold hardware for an added touch of glamour.
For the flooring, consider options such as marble, porcelain tile, or hardwood with intricate patterns or unique textures. These materials elevate the overall aesthetic and create a sense of grandeur.
Wine Cellar or Display Wall
For wine enthusiasts or those looking to add a touch of sophistication to go with their basement bar ideas, consider incorporating a dedicated wine cellar or wine display wall. A wine cellar can be designed with climate control features to maintain optimal temperature and humidity levels for storing and aging wine. This creates a space where you can showcase and access your wine collection with ease.
Alternatively, a wine display wall can serve as a visually striking feature that adds a nice touch to your basement bar. Install wine racks or floating shelves to beautifully display your wine bottles. Consider incorporating LED lighting to accentuate the display and create an inviting atmosphere.
Sophisticated Bar Seating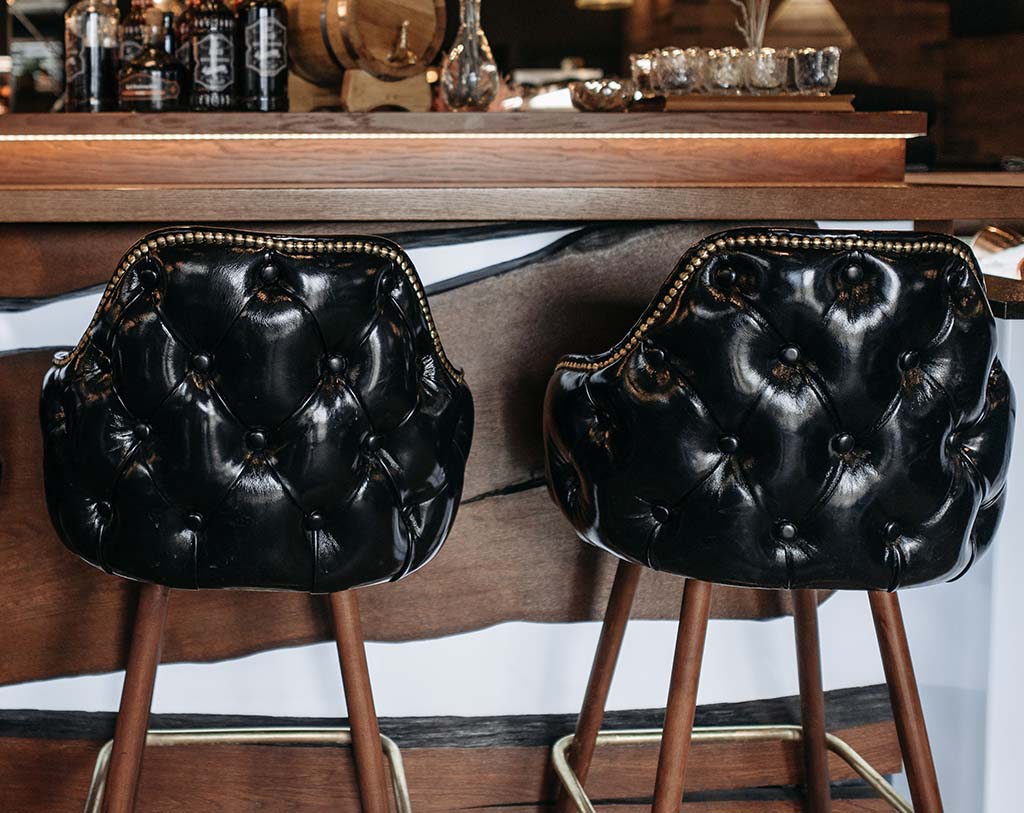 Selecting the right bar seating is important to creating a luxurious atmosphere in your basement bar. Choose stools that not only provide support but also exude elegance. Opt for plush seating options upholstered in high-quality fabrics or genuine leather, ensuring both comfort and durability.
Consider designs that feature detailing such as tufted upholstery, nailhead trim, or decorative stitching. These accents add a touch of refinement to the seating. Opt for bar stools with sturdy frames made of materials like solid wood or metal, ensuring long-lasting quality.
Incorporate additional seats, such as lounge chairs or accent chairs, to create a cozy and inviting space for relaxation. Choose designs that harmonize with the overall aesthetic of the bar, creating a visually pleasing atmosphere.
Integrated Entertainment Systems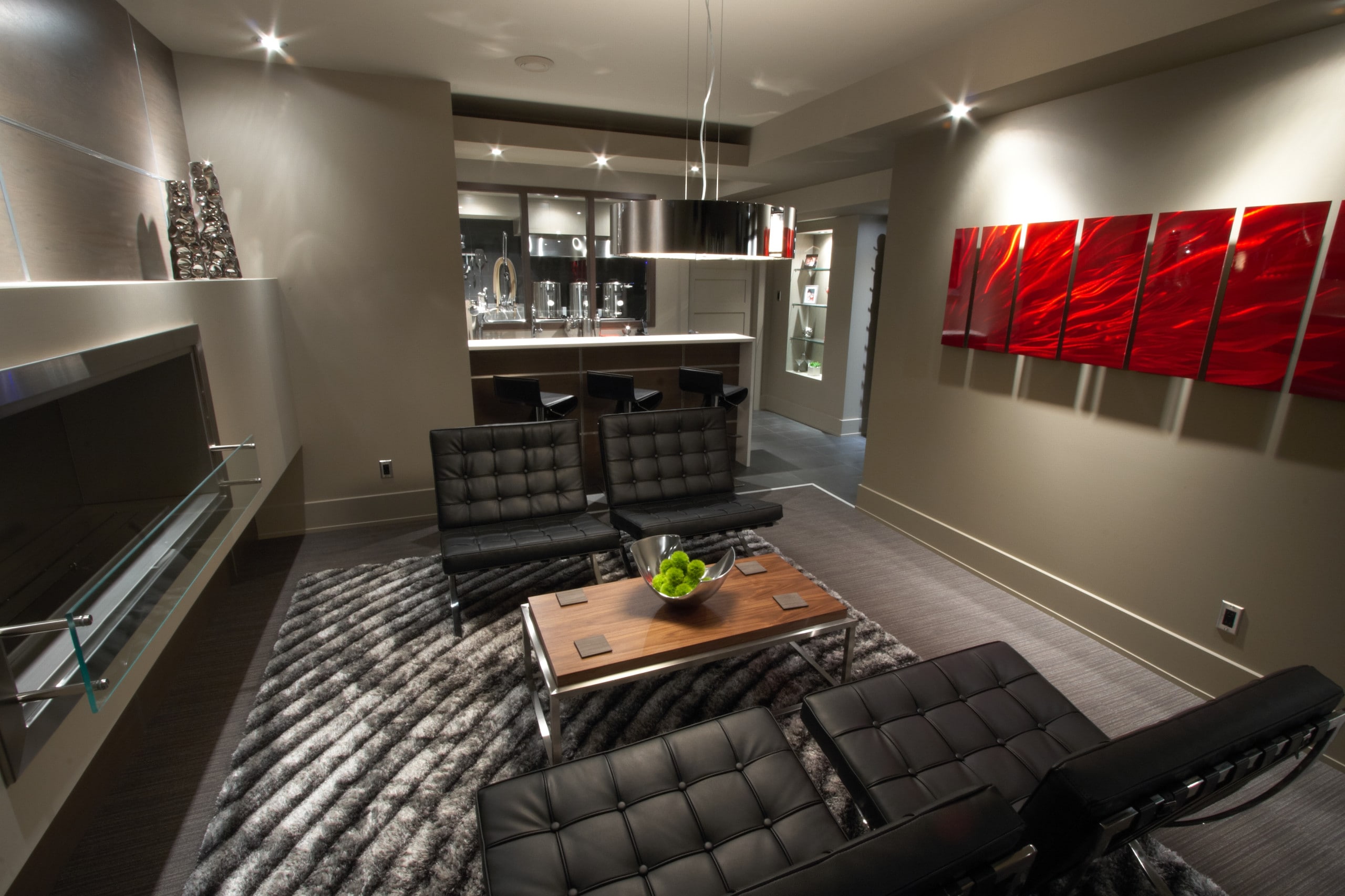 To enhance the entertainment experience in your basement bar, consider integrating audio and visual systems. Install a high-definition television or a projector screen to create a cinematic atmosphere for watching sports events, movies, or your favorite shows. Choose a screen size and placement that ensures optimal viewing angles for everyone in the bar area.
Invest in a surround sound system or built-in speakers positioned throughout the space. This creates an immersive audio experience, allowing you and your guests to fully enjoy music, movies, or even karaoke nights. Consider wireless or smart speaker options that allow easy control and connectivity with streaming platforms.
To create a clutter-free entertainment setup, explore built-in storage solutions for concealing electronic components and cables. Custom cabinetry or wall niches can be designed to house audiovisual equipment, ensuring a clean and organized appearance.
Incorporate smart technology that allows you to control the entertainment systems with ease. Utilize voice-activated assistants or smartphone apps to adjust volume, switch between media sources, or create personalized playlists, enhancing the overall convenience and sophistication of your basement bar.
Mixology Station and Cocktail Bar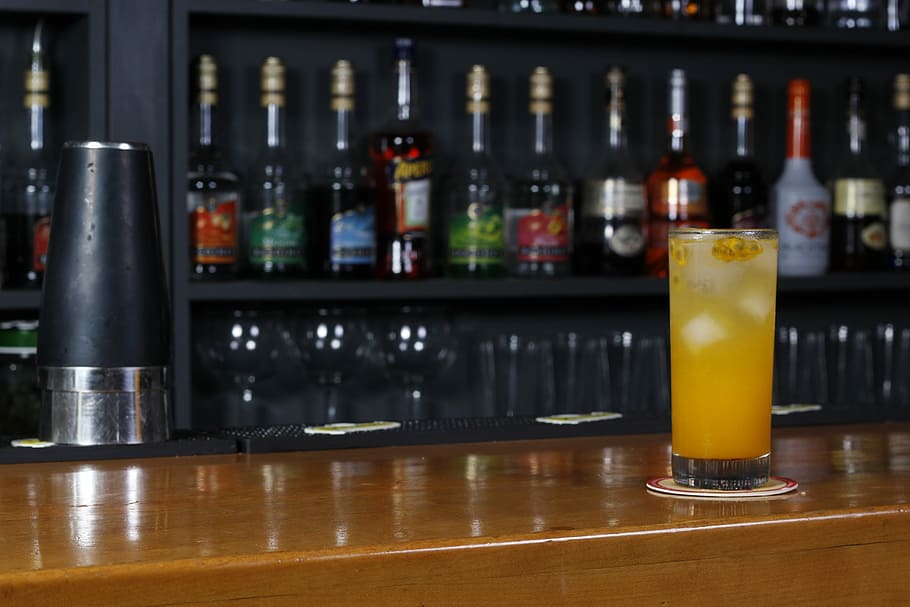 Elevate the experience of crafting and enjoying cocktails by incorporating a dedicated mixology station or a cocktail bar area in your basement bar. Install a sleek and fully stocked bar cart, complete with a variety of premium liquors, mixers, garnishes, and an assortment of glassware. This creates a visual spectacle and showcases your dedication to mixology.
Consider adding a small sink with a stylish faucet for convenience and easy cleanup. This allows you to prepare and rinse glasses or utensils without having to leave the bar area. Incorporate a mini refrigerator or wine cooler to keep your beverages at the perfect temperature.
To enhance the aesthetic appeal, display of bar tools and accessories such as shakers, strainers, muddlers, and beautiful cocktail recipe books. Incorporate lighting above the mixology station to create a warm and inviting atmosphere.
Consider adding a small seating area near the mixology station where guests can observe and engage in the cocktail-making process. This creates an interactive experience and encourages conversation and camaraderie.
Luxury Lounge Area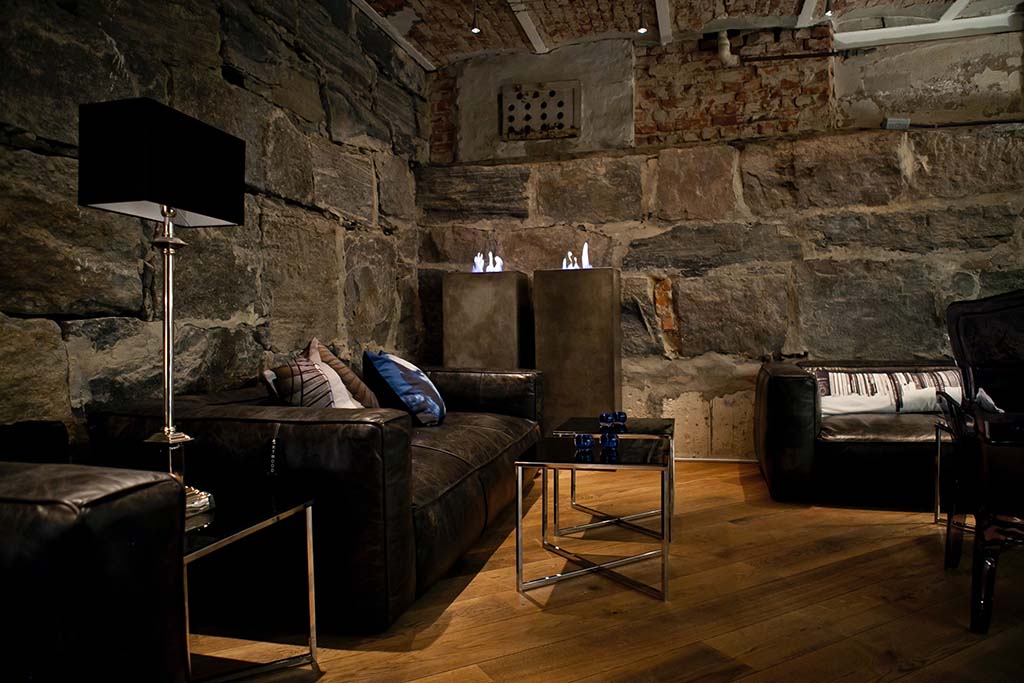 Create a lounge area within your basement bar to provide a comfortable place for relaxation and conversation. Incorporate seating options that exude sophistication and comfort. Consider velvet sofas, oversized armchairs, or sectional seating arrangements adorned with decorative pillows and throws.
Select coffee tables that complement the overall aesthetic of the bar. These serve as convenient surfaces for drinks, snacks, or playing games. Choose materials such as marble, glass, or luxurious wood finishes to enhance the luxurious ambiance.
Good basement bar ideas integrate ambient lighting such as dimmable wall sconces, floor lamps, or table lamps to create a cozy and intimate atmosphere. Consider adding a fireplace feature or a wall-mounted electric fireplace to add warmth and a touch of elegance to the lounge area.
Incorporate decorative elements such as artwork, mirrors, or wall sculptures to elevate the visual appeal of the lounge space. These personalized touches add character and create a sense of refinement.
Customized Home Bar Design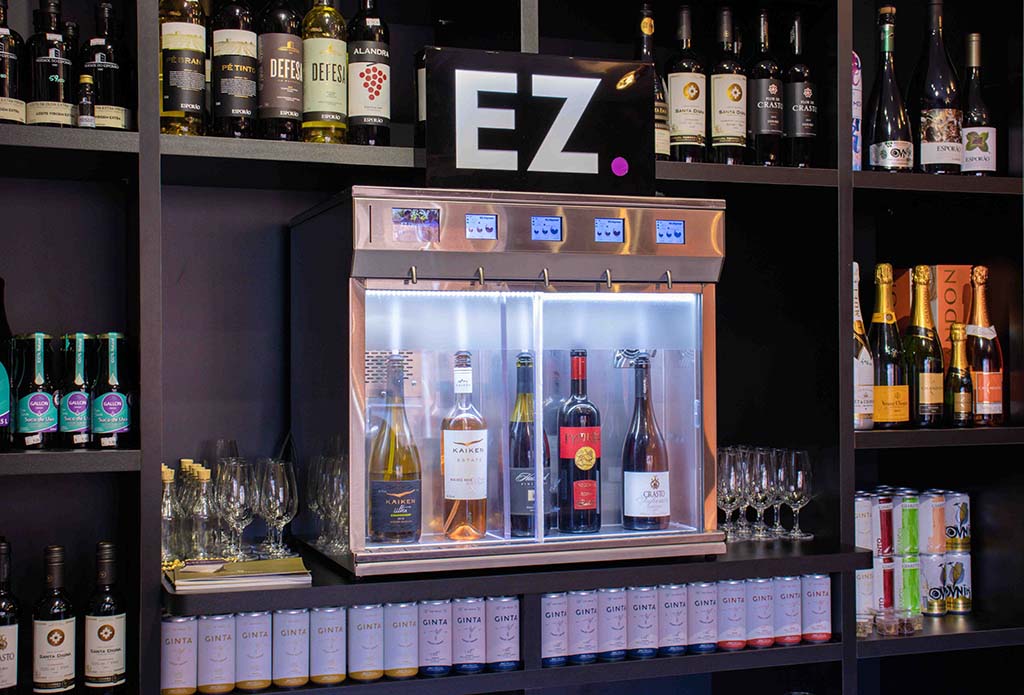 Create a truly unique bar by customizing the design to suit your preferences and lifestyle. Collaborate with a skilled designer to create basement bar ideas that maximizes functionality and aligns with your vision.
Consider custom-built cabinetry that incorporates specific features tailored to your needs. This can include dedicated storage for glassware, a built-in wine rack, or a display area for your collection of spirits. Incorporate lighting that highlights key areas of the bar and creates a warm and inviting atmosphere.
Customize the bar top shape to suit your style. Explore options such as curved edges, waterfall designs, or inlays that add a distinctive touch. Incorporate personalized signage or monograms to make the space truly your own.
Incorporate unique elements or focal points such as a wood feature wall, a backsplash design, or a customized ceiling. These elements contribute to the overall luxury and exclusivity of the bar.
Beverage Dispensing Systems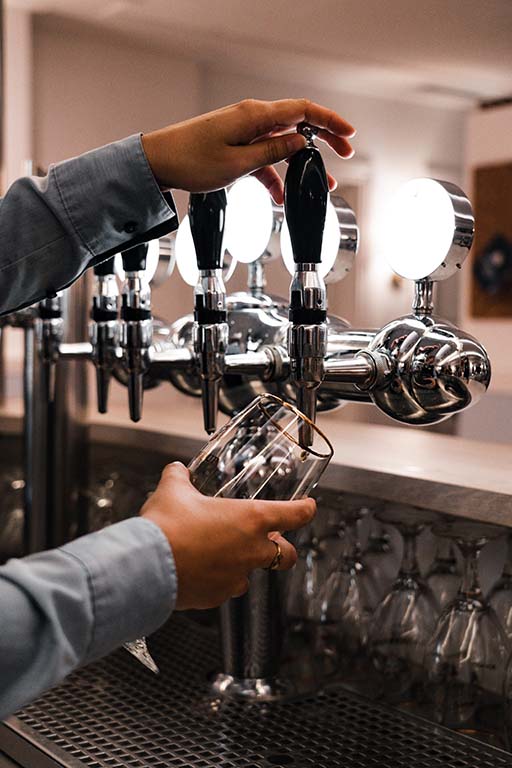 Take your basement bar ideas to the next level of luxury and convenience by incorporating beverage dispensing systems. Install a draft beer system with multiple taps, allowing you to serve a variety of craft beers or your favorite brews on tap. Consider including a kegerator or a beer cooler to keep the kegs at the optimal temperature.
Explore wine dispensing machines that offer controlled pouring and preservation of wine. These systems allow you to offer a variety of wines by the glass, ensuring that each pour is fresh and at the perfect serving temperature.
Consider adding a built-in cocktail dispenser that offers pre-mixed or customized cocktails at the touch of a button. These dispensers provide convenience and consistency in cocktail preparation, ensuring that your guests can enjoy their favorite drinks without the need for bartending skills.
Incorporate display shelves or refrigerated cabinets to showcase your beverage dispensing systems. This creates a captivating and interactive experience for guests, encouraging them to explore and try different drinks.
Bar Backsplash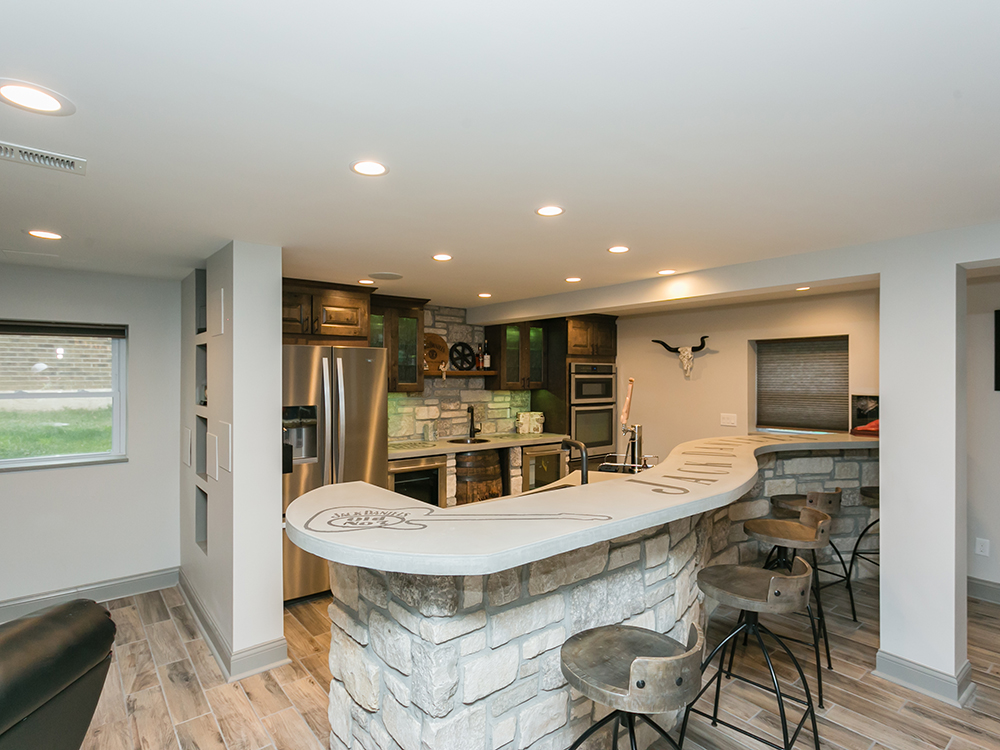 Add an extra touch of luxury and visual intrigue to your basement bar by incorporating an illuminated bar backsplash. Choose backlit glass or acrylic panels that can be customized with various colors or patterns. These panels can be installed behind the bar area, creating a visually stunning focal point that enhances the overall energy.
Consider programmable LED lighting that allows you to adjust the colors, brightness, or lighting effects based on your mood or the occasion. This feature adds a dynamic and captivating element, making your basement bar a memorable and inviting space.
Think about incorporating mirrored surfaces or decorative elements in the illuminated backsplash to create a sense of depth and reflection.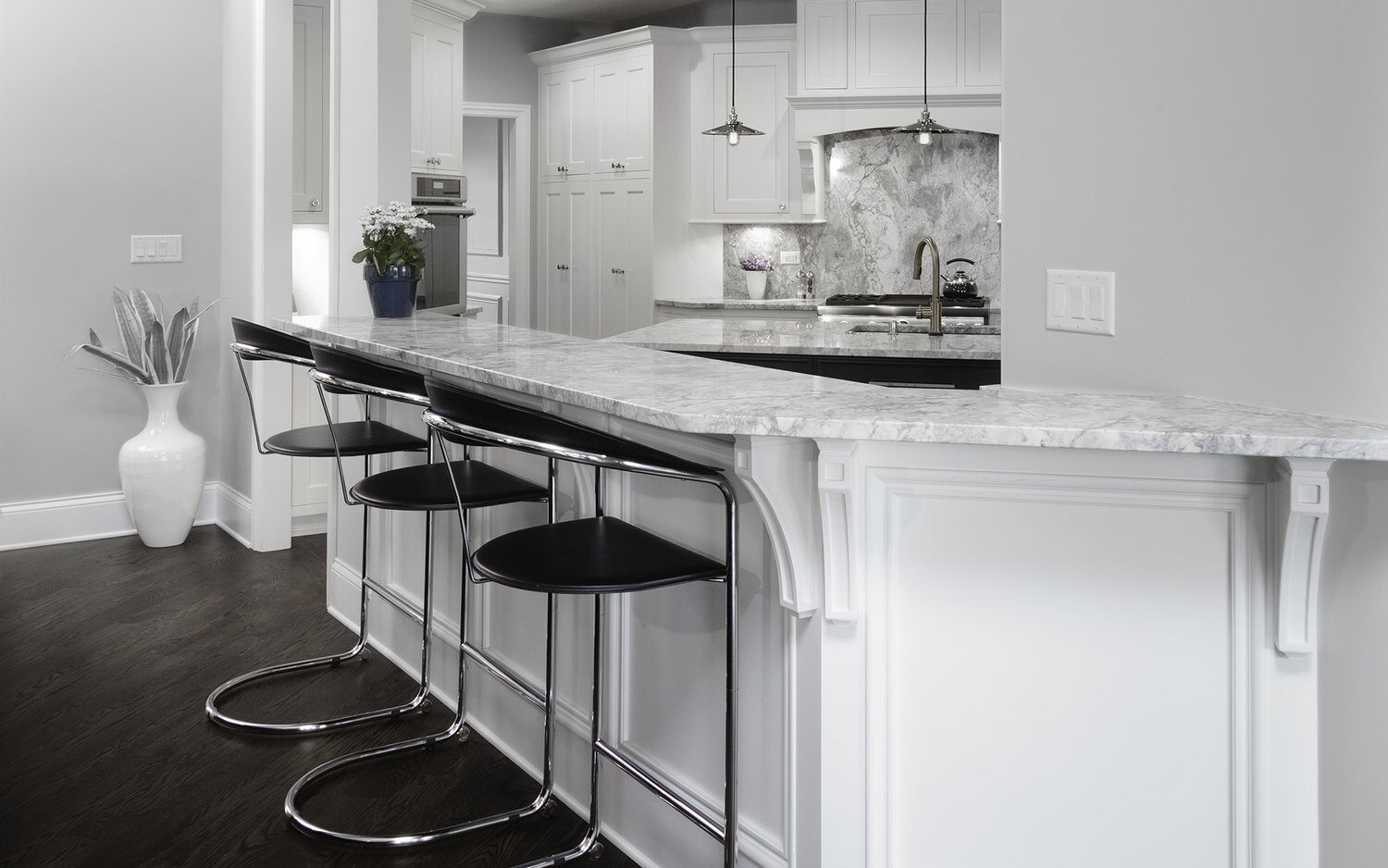 Creating a luxurious basement bar is a wonderful opportunity to elevate the entertainment and relaxation experience in your home, and KAM Remodeling can help you with it. With careful planning, attention to detail, and the right combination of design elements, your basement bar will become an area where you can entertain guests, unwind, and indulge in the pleasure of relaxing.
Contact KAM Remodeling today and let us help you get the bar of your dreams!